Wednesday, August 04, 2010
Voyageur 50 mile - July 2010
The short version - 50 miles of wet, mucky and then hot, sunny trails in 11:03, one wipeout in the mud and a stretch of shuffle-puking.
The long version...
I've had this race on the radar for the past couple years now, but timing, training and life have never aligned to make it a possibility. This year, however, two others, Murray & Dale, were also onboard, so we made a weekend road trip out of it and off we went.
Located just outside of Duluth, MN the terrain is not flat. Various friends warned me about the powerlines and the nasty hills, but I just trained like I would for any other ultra; lots of long runs, hill workouts and some solid strength training.
On the morning of the start it was near perfect running weather, overcast with temps around 15 C. Of course nobody ever sleeps properly the night before a race, and in this case, three guys all awake before the 4am alarm, ready to go 15 minutes before the appointed time. We got to the start area before just about anyone else, got rock-star parking then walked the couple blocks to the pancake breakfast.
Back to the start area, I started recognizing faces I'd seen at other races, including one of the co-race directors from Kettle; had a quick chat with him before the start.
The first mile or so was on the road then a paved bike path before jumping onto the trails. Murray and I ran together, Dale tailing behind a bit. It was Murray's first kick at an ultra, but his extensive marathon history and grit would serve him well. The first section of trail was relatively technical singletrack, and it seemed that as soon as we got grooving the people ahead would slow down for something. We managed to make quite a few passing opportunities and got clear of the crowd after a while.
Aid stations were quite close together which was great, but also a potential to kill lots of time. We blasted right through the first one at 3.3 miles, back onto the trails after crossing a lock structure. The rest of the course, other than the powerlines, was either ski trails, road or wider dirt trail that for the most part was quite runnable.
We managed to keep a pretty solid pace until about 2 hours in when we hit the powerline section. Our pace dropped from about 10 min/miles to almost 14! Joanne had told me tales of the powerlines and how she dreaded them. At first it didn't seem too bad. There were two steep, but relatively short ups and downs. Almost hands on the ground digging in steep, but not quite. At the top of the second, I was out of breath, but I thought, 'not so bad, Joanne must have had a bad day' as I sauntered off into the woods on a nice runnable trail. A few minutes later, the reality of the powerlines was in front of me... All I could see was a rollercoaster of up and down, steep and deep! The surface was not that great either, it was deeply rutted, three ruts in fact, in red clay. I found myself with one foot in the rut, the other on the ridge 8 inches higher trying to control gravity as I plunged down the slopes. It was challenging, but we got through it. Knowing this was an out & back course, the one thing I tried not to think about was how nasty these hills would be hours later when I would be a bit more tired.
After getting past the powerlines, we stocked up at the next aid station, I started with the rocket fuel coke and continued eating as much solid food as I could. Other than one long climb, we ran a pretty decent pace of around 9 min/miles until we got to the turn around at 25 miles. We hit the turn in about 4:38 which had Murray & I feeling we could get pretty close to 10 hours. The one potential problem with this plan was that it had started to rain and I knew this was going to slicken up the trails quite a bit, especially the clay on the powerlines.
The nasty thing about this course is that the turnaround is at the bottom of a substantial hill. So after some food, clean socks and more bodyglide, it was time to start climbing the ski-hill we had just descended. It was a long enough of a climb that it took 9 minutes longer to go up than it had to come down. After that, the next 8 or 9 miles were pretty decent, with some sections even going by faster than on the way out.
It was at about 34-35 miles or so that my stomach started to feel a bit off. I switched to water from Heed and took an s-cap to see if that would help settle things; it helped a bit, but as we got to the aid station before heading to the powerlines I was starting to really feel the agony in my gut.
The rain had indeed made the clay on the powerlines greasy. At one point on a descent I thought I was going to lose control and slide into the bush. Somewhere along the way I managed to break off a sturdy stick and started using that to maintain some control, mainly on the slick muddy downhills. I do love my North Face Rucky Chuckys; the tread on them seemed to dig in quite well on the uphills, but the stick kept me upright on the descents.
He was waiting for me at the aid station, but knowing his quest to make 10 hours I told him to keep going, I was fine, just needed to settle my stomach. More water, some potatoes and off I went. The real puking started about a mile later. I was hoping it was going to be a case of get it out and I would feel better, but it just seemed to linger for much too long. I continued to shuffle and heave along, being passed by way too many people for my competitive spirit to handle :-)
When my stomach did finish with its festivities, I actually managed to get some decent enough running in for good parts of the last 5 or 6 miles. I did have to slow down and take it easy on the technical section with lots of rocks and roots as a blister on my heel was making the rough stuff a bit painful to go too hard.
Busting out of the trail onto the last section of bike paths on the way into town was a great feeling! I had long given up on any sort of goal other than finishing. I thought at one point I could break 11 hours, but I couldn't remember how long the paved section was back to the finish, so I just kept plugging along and ran it in.
Another ultra done, not the prettiest, but rarely are they. At the finish area, I found Murray, busted a beer out of the cooler and settled in the grass to wait for Dale to finish. I managed to get some food in me, but I just couldn't finish the beer; a bit of a shame actually, but my stomach wasn't back to 100% yet.
A great race, kudos to Andy Holick on his first year as RD for the 29th running of this long time race. This will be one to return to, now knowing what to expect and hopefully break 10 hours if the stomach holds together.
D.
Monday, February 08, 2010
Looking back on 2008
In 2008 I attempted my first 100 mile race. If you look back at the blog posts from June 2008 you can read the updates Natalie posted during the day. What was missing was the final race report. Here it is, enjoy.
The journey that is not over yet.
Well, let's get the one nasty detail out of the way, I dropped out of this race at the 81.5 mile point after 21h27m of running. As difficult of a decision as it was, given the condition of my feet, it was the only smart thing to do. But, we'll get to how my feet got in such rough shape.
This trip involved a 12 hour road trip which started on the Thursday before the Saturday race. Natalie, Pam & I set out to Minneapolis, enjoying the wi-fi hotspots at gas stations along the way; not to mention the bizarre 'food' products such as the pickled sausages (which we just poked, did not consume!). The best part of this portion of the trip was the conversation with the border guard. I said I was going to do a race, and that Natalie & Pam were coming to crew and cheer. She asked "A marathon?" to which I responded, "no, a bit further, 100 miles" The look on her face was hilarious; maybe that's why I like this sport, just for the befuddled looks you can get from people when you tell them what you're doing.
Other than driving through a monumental storm the trip was uneventful. Pam was reading through the 50 page race booklet trying to get a better sense of what she had really gotten herself into. Driving into Mpls, we went past an REI store that was just down the road from our hotel; this gave us an idea for a quick shopping trip before continuing the trip to Wisconsin the next morning. After a decent night's sleep, it was breakfast at IHOP and then a side trip to what turned out to be the third largest REI store in the US! It was great to be able to try out a bunch of different trail shoes that I haven't seen stocked at home. Having seen the forecast for the race, one thing I picked up was a neckerchief that was filled with 'cooling beads', what an amazing find!
The rest of the drive to the race area was uneventful except when the AC in the car was acting funky and I got some heat training. We stayed in a small town called Fort Atkinson, which is about 25 miles from where the race started. After checking in at the hotel we ventured out to the kit pick-up at the La Grange General Store. Now, when you think "general store" and small town USA, what comes to mind? Prior to getting here I imagined a place where you could buy wonderbread and cow medicine. Nothing could be farther from that! This was a little mecca of funkyness in the middle of rural America. From the mountain bike shop to the vegan café to the cooler full of micro-brewed beers, we were totally amazed. The funniest thing was that we made a special trip before leaving home to pick up some 'special' post race chips that we didn't think we would find in small town America, and there was the Spicy Thai Kettle Chips right there a the General Store! The kit pick up was super well organized and I picked up both some extra fee stuff and some race branded clothes. We then changed and drove up the road to run a little bit of the trail.
The trail was gorgeous, the forest was equally amazing and it was good to see that the course markings were really well done. We ran a short out & back stopping to take some pictures. Then it was time to eat, get back to the hotel and prepare for the morning. It was somewhere along this point when Pam & Natalie were dubbed "Two Live Crew".
The race has three divisions, a 100k, a 100 mile relay and a 100 mile. Driving to the start Natalie gave me some advice "Now don't go sprinting out with those 100km racers, you've got further to go!" – the funniest pre-race advice I've ever heard ☺
Right at 6:00 am it was go time and off we went like a herd of turtles. I ran the first 7.5 miles at 9:45 min/mile (The eventual winner was 9:15 for this section) just taking it easy and enjoying the crowds and making sure everything was feeling good. The first thing I realized was that it was going to be a tough day on the feet as the temperature was already 21 degrees and with the humidity at over 90%, the grassy trail was soaked and eventually, so were my feet. I saw Two Live Crew at the aid station, waved and kept going as everything was fine. I did pick up a few chips and crackers at the aid station, starting the solid food as soon as possible.
The terrain changed on the next leg. It started with a short section of old fire road and then a pretty technical single track with lots of climbing and rocks. What I really enjoyed about this race was the diversity of the terrain. Early in the race, this section was truly one of my favourites. I ran most of it pretty much by myself, just soaking in the scenery and trying to remember milestones for the way back. The serenity of the forest reinforced why I love trail running.
At the next crewed aid station I had my first full pit stop with Two Live Crew tending to my every need. I'll say it over and over, having Natalie & Pam there made this race so much easier as I just had to keep moving and they helped me so much, both in the tangible things like filling my bladders with ice and heed, re-stocking gels and bars; but also in the intangibles like keeping my motivation up, checking in on my status and generally kicking my butt if I stopped too long.
The next section of the course was my least favourite mainly because this is where the heat and humidity really started to take its toll. Most of this section was run through undulating grassy meadows and marshes with almost no tree cover for shade. In the open, the sun was relentless, in the small treed sections the humidity from the marshes was oppressive. It was still early in the day and I knew I would have to be coming back through here in the middle of the afternoon; not something I was looking forward to.
After getting through this brutal section I think I must have sounded like a tyrant asking for my handheld bottle to be filled with ice and water just to be able to douse myself on the next stretch. Once again though, Two Live Crew got me re-fuelled and back on the course. Then it was off to the 31 mile turnaround point where I would see them again. This was pretty ordinary as far as ultras go. The heat was still oppressive but nothing out of the ordinary was taxing me. I did drain my hand-held twice between craving the ice cold water and dousing my head with the blast of ice water. I was still taking in food OK and I kept up on the salt pills and drinking.
Along the way you end up talking to people and this was a very social stretch. One fellow and I had been close together from the beginning and when I caught up to him we ended up chatting until he stopped at one of the un-manned aid stations. Another that I had been running with earlier was already coming out of the 31 mile turnaround just as I was coming up the last hill. I saw him two more times and we kept encouraging each other. With this course being made up of two out & back sections, you had the opportunity to see the leaders as you approached the turn around points. It was about 1.7 miles from the 31 mile turn around that I saw the first of the leaders, which I expected to be a 100km racer, but it was a 100 mile guy, followed by a relay and then another 100 miler before the lead 100k. These guys looked so amazing compared to how I was already starting to feel; totally in awe of their athleticism. There was a section of the trail here that was so picturesque. Imagine hundreds of lilac trees with their petals blowing in the wind making a carpet of flower petals. Both the visual and the scent were amazing.
Once I got to the aid station all I wanted to do was sit in the air conditioned car (which I didn't do) so I could feel cool. Pam fetched me a cup full of salted potatoes and I munched on them along with a peanut butter & jelly sandwich while my pack was re-stocked. I remember taking a drink of water and complaining that it was too warm and that the pretzels tasted like crap. After downing some ice cold water I felt better, but I didn't really feel like getting out of that chair, but between the reminders from both Natalie & Pam I realized I'd out-stayed my welcome and I didn't want to be like that annoying house guest that hangs around way too long. Pam filled my hat with ice and off I went trundling down the trail.
As I was on my way back to the Highway 67 aid station that I started to feel the first blister forming and I knew I would have to start tending to it soon. This is also the section where my stomach started to hint at rebellion; nothing serious, but just a warning. In hindsight, I probably guzzled too much water at the turn around and it was sloshing; plus it was so hot I kept drinking and chewing on ice. On some of the rocky downhills I could really feel the blister on my left heel and I was almost considering finding a sharp rock to poke it for drainage. As soon as I got to the next aid station, I had Natalie get the blister kit while I pulled my shoes and socks off. Draining and patching my heel along with the clean socks was such a refreshing moment; amazing how such a small thing can make you feel better. While getting ready to go again, I was already dreading heading out into the meadows again, as it was now in the mid afternoon and the sun was full on. Even though there was a strong wind, it felt like a blast furnace in the open areas.
This next bit is when things took a turn for the worst. My stomach really started to rebel. It was like the worst side stitch I've ever had multiplied by 12. A few miles in, the inevitable happened, the wretching. First it was dry heaves, then it was full on puking. Over the course of about two miles I shuffled, heaved and then finally got it out of me. Ugh. I started taking in what I could in terms of food and fluids to try and get my stomach settled. Of course, the last bout of heaving happened just before the aid station where Natalie saw me hunched over, which of course only added to her worry that was already high because I had been on this leg way too long.
Two Live Crew performed a field evaluation on my situation using the guide in UltraRunner and prescribed that I eat and drink Heed only, not water for a while to help stabilize my system. Again, Pam brought the magical potatoes that tasted so good! As I was getting ready to go, it started to rain. Within 20 minutes it was a full on downpour as a massive thunderstorm settled in. So now I'm back in the forest section on the singletrack in the pouring rain questioning my sanity as my stomach is still feeling a bit off and then as if by magic I just started feeling better. The rain also cooled everything off which I'm sure was a big part of the equation. The rain was so intense that the trail which is about 14 to 18 inches wide on this section turned into small rivers rushing down the hills. It made both the climbs and descents rather treacherous as the ground was now mud with rocks under rushing water – not a great combo for staying upright. Even with the rotten weather I managed to keep moving at a decent pace. The wetness was, however, starting to take a toll on my feet.
I frankly don't remember much of the next aid station stop other than I know I was starting to feel much better, but getting worried about my feet. I knew I had 7.5 miles to the 100km point where I would then have Pam out on the course with me as a pacer so I just kept going. This was a highly runnable section of the course and I managed to keep moving as best I could at this point in the race. There is an aid station 5 miles out that is essentially a small slice of heaven in the woods. A buffet of food and beverages. I had a bean burrito and a handful of cashews and was off running again. I think I surprised the crew as I got in to the 100k point earlier than they expected. A quick bathroom break, a change of socks and some food and off I went with Pam running with me for the next 7.5 miles.
Pam was great at helping me get running after walking up the hills. Whereas I would have shuffle walked longer, she'd say things like "hey, this looks runnable!" and I'd feel compelled to agree and get running. A big motivator on this section was knowing that when I got to the aid station I would have another burrito and a cup of coke; I mean what else would be an appropriate way to celebrate running further than I ever had? Just for good measure, I also took a pocket full of mixed nuts for later. We kept running, talking and generally relentlessly pursuing forward motion. This was also the time when the people doing the 38 mile 'fun run' were out on the course. One woman was kind enough to say "don't worry, I'm just doing the fun run, I'm not a 100 miler feeling this good" as she went flying past. Before I knew it, we met up with Natalie again at the 70 mile aid station and it started to rain again as I left. For about 2 miles the trail was a gorgeous forest path covered in pine needles. I'm assuming it was gorgeous based on what I could see in the beam of my headlamp as it was now completely dark. In the distance you could hear the frogs croaking and making all sorts of noises. The gentle forest ended and so did the bulk of my running for the day. Like earlier in the day, the rain was causing the trails to become small rivers and the climbing was relentless. My feet were hurting and the constant stepping on the rocks along with the puddles was not making them feel any better. After some really long climbs in the rain the trail widened to more of a meadow and I had the most amazing firefly show I'd ever witnessed. Truly wonderful to see them all fluttering about. The meadow section was fairly smooth and I managed to run parts of it until I'd hit another rocky bit. I could hear the sound of a generator so I knew the aid station was close and Pam would jump back onto the trail with me.
Pam was ready for me and eager to get me through this section. I'm glad she was there as it was probably the most technical section of the course. Now given, it was already 19 or so hours into the run and I was tired and my feet were screaming, so it might have just felt that way. We kept moving as best as we could, with Pam putting up with my whimpering when I stubbed my toe on yet another rock or just generally felt exasperated at the top of some hill. At about 20h40m into it, the thought of dropping out entered my head. Or maybe the message from my feet finally made it to the brain (what little bit of it was still functioning that is). When I told Pam what I was thinking she was encouraging and supportive and said it was my choice and she would do whatever she could to get me to the finish. What I struggled with was knowing how bad my feet were feeling and that when I got to the 81.5 mile point I would have run the whole trail and would know what to expect on the way back. What I couldn't wrap my head around was how to push past the agony of this 4.4 mile stretch and do it again. It was probably about the last 20 minutes before the aid station that the decision to drop was taking a firmer hold in my mind. Not even the prospect of clean socks and fresh shoes at the turn around was sounding that appealing at this point. The rain was still off and on at this point and the trails were still pretty wet. There was a small bridge just before the aid station that was nearly flooded out, the volunteers had set up some solar yard lights to light it up as we jumped over the overflowing stream to get on the bridge.
One last climb and we were at the aid station. I sat down on the picnic bench and told Natalie that I was ready to drop out because of my feet. At first I wanted to see if I could salvage them with some emergency care but that thought faded as I reminded myself of the rocky trail I'd have ahead of me. I sat there for what felt like 20 minutes deciding what to do. In reality, it was only 3 or 4 minutes of talk with Natalie & Pam before I made the decision. Telling the volunteer that #70 was dropping filled me with dread and relief at the same time.
Once we shuffled back to the car and I took off my shoes and socks and saw my feet I knew I made the right decision. They were, and still are, nasty. Another 18.5 miles I think would have led to some serious long term problems. As it is, one or two of the blisters are probably infected. It hurts to even take a step. My legs feel relatively good and I know that if my feet hadn't gotten so bad they would have carried me the rest of the way. But when the feet feel like that, there is just know way I could have pushed past it without making a dire situation worse.
It has now been about 36 hours since I made that decision, and even though I think I made the best decision I could have, it still doesn't feel that great. That's the challenge of attempting an event of this magnitude, you don't usually have that many shots at it in a year because of the timing and the training involved. I will come back and finish this distance, either at Kettle Moraine or elsewhere, that much I am confident. In the interim, I have to focus my efforts on fixing up my feet and not letting them be a limiting factor in my pursuit of this goal.
Thanks to those of you that were sending notes to Natalie during the race, she relayed them to me and it meant a lot that I had friends cheering for me along the way.
This report would not be complete without a huge THANK YOU to Pam for coming along on this trip with me. She seemed to anticipate my needs at the aid stations and her persistent determination to keep me relentlessly pursuing forward motion while pacing was amazing (I won't even hold the getting us off trail against her).
Natalie of course, you pulled me through this journey in so many ways. From the wake up reminders on the days I would have rather stayed in bed to the pancake feasts when I got home from my long runs; you have been behind me all along this crazy road. Knowing that I was going to see you at the aid stations and get those good luck kisses kept me going. I am sorry that you weren't able to capture the elusive trail diva on video tape this time, maybe next race.
Thursday, January 21, 2010
I'm a streaker
No, not this kind, but the other, just as silly kind where I have decided to run every day. It started on January 15, 2008 with the only rule being that the run has to be at least one mile.
Well, on this past Friday I hit two years. And I have committed to keep it going until at least 10/10/10 which is the day of the Chicago and Victoria marathons as well as a couple ultras. Now other than October 10th being a date represented by three 10's (which appeals to the geek in me), it is also will be the 1000th day in a row of running; just a sheer quirky accident. Nevertheless, I've decided that I need to do something unique that day just because.
D


Sunday, November 22, 2009
Ramping up for 2010
So I have put into works the plan to do a spring 100 miler again -- either a return to Kettle or to head west and take a kick at Bighorn. They are only two weeks apart, so regardless of which one I finally decide on doing, the training for now won't be much different. This is the outcome of spending a week home sick with the piggy flu. It's funny how both Natalie and I in our sickness started to focus on training and getting stronger.
So the plan has me slated to run about 2100 miles between now and early June, with some weeks getting a bit over 100. I'm also planning on four fitness tests throughout to act as a gauge of both my fitness and to test for over-training. The first one is in a couple weeks, first to give myself to fully recover from this flu bug and to get some business travel over with first. The protocol will include a 5 mile, specifically paced run on the treadmill where HR will be the variable. Followed by pushups, timed plank & flexed arm hang (to exhaustion) and then squats. This should give me a well rounded indication of cardiovascular, core, upper body and lower body strengthening. Or at least that is the hope :-)
This past week has challenged the streak. Thankfully, having a treadmill at home made it easier on the body to keep going. I think the streak would have ended if not for this wonderful piece of equipment as I wouldn't want to go out to the gym and infect the world, nor was I in any condition to run outdoors when I had the craziest chills earlier in the week. But here I am at day 678.
The plan I have laid out, as you can probably guess, is heavy on long runs. I have decided to continue with the back to back long runs, as that has worked for me in the past. The typical second long run is about 2/3rds the length of the long one, but on the recovery weeks, I've opted to back to back 15's or 20's (all distances in miles).
For as long as the weather holds I will be doing real hills once a week too. Then it will be treadmill hills. Like the past, there will be speed work too. Some tempo running, intervals and fartleks all in the mix; more to help keep it interesting and to avoid going stale and getting stuck in that mono-paced rut.
28 weeks to go (or 30 if Bighorn is the winner).
Wednesday, November 04, 2009
Surfing for Halloween
Surf the Murph 50 mile trail race
31 October 2009, Minneapolis, MN
Preamble: I only decided to do this race about 2 or 3 weeks before; yes, that's right, I did a 50 mile race on a bit of a whim -- what can I say, it is the ultra-marathoner mentality of looking for the challenge knowing that regardless of how much training you do, there is bound to be some suffering. In this case, it was just how much suffering I would experience. The reality is that while not training specifically, I was still putting in the miles and even doing the odd back to back long runs; all this while organizing the 6 trail races in the trailrunmanitoba.com race calendar.

The Journey: This was my first solo trek for a race which was a bit weird. Knowing that it was going to be a small race made it easier because I know ultras are so low key that within 5 minutes of being there I'd be chatting it up with other runners; not so much if it was a big marathon. The drive down had it's normal conversation with the US customs agent where she thought I was just a bit crazy, but nevertheless, allowed me into the country. From Fargo to about St. Cloud MN wasn't much fun as there was quite a snow storm blasting through that turned to rain as I got closer to Minneapolis. Once I got checked into my motel I realized that being on the second floor was going to make the post race hobble to my room a bit more challenging :-)

I set out to find the start line, got a bit lost, then figured out that the spot I initially discounted as the start had to be it, so I went with that assumption and made all my mental notes of landmarks. Then it was time for some food then back to the room for prepping my gear for the race. Since it was still pouring rain with the forecast calling for below freezing overnight, I planned for running in wet and cold and laughed at my inclusion of shorts and short sleeve shirts.
Race Day: It started with a phone call at 3:20 am, it was the Race Director who I had left a message with the night before when I was lost. He wanted to make sure that I had found the start and when I explained where I thought it was he confirmed that I was right. I tried to sleep a bit more, but just laid there so I shut off my 3:50 am alarms and started to get ready. It had stopped raining and there was no snow, but it was -2 C so I stuck with my original clothing plan which was my lulu run kit of un-tights, a base layer shirt and a new bright orange half-zip pullover that had just enough flocking to make it feel comfy in the cool weather. I also decided to try out my North Face Rucky Chuckys in a long run, having only worn them for up to 22 miles in the past. I had my Adidas Response Trails in reserve in case the RC's stopped feeling comfy.

I briefly debated calling up Les in Phoenix for his 100 mile race, but when I couldn't quickly find his hotel name in my e-mail that plan vanished as I didn't want to start randomly calling phoenix Holiday Inns asking for some fellow crazy Canadian. I did think about him and the difference in the weather he was going to face that day; 32 F for me, 32 C for him according to the forecasts.
With next to no traffic I made it to the start area in about 10 minutes and was probably the first runner there at 4:50, so I just helped a couple volunteers get the fire started in the ski chalet while I waited for the kit pickup to get organized. Pretty soon a few other runners started wandering in and the random conversations started. Quite a few of the people I talked to would be tackling their first 50 miler that day; then I realized I hadn't done a 50 yet, only the 100k and the attempt at 100 miles. I had it in my head that today was going to be about 8 or 9 hours on the trail based on what I had done at the 100k distance.
Once I got my race kit, I went back to the car, finalized my attire and supplies and set up the hatch for my drop box layout. There wasn't really an area set aside that I could see for the drop bags, and since I was there so early, I was only 30 metres from the trail. I made sure my blackberry was where I could easily get at so I could give Natalie updates after each lap.
The race director gave us a run down of the unique parts of the trail such as where to be watching for the short loop turn. The course was set up as a short 3.2 mile loop to get us going then three 16-ish mile loops for the majority of the race. After his briefing, a firework rocket was launched to start the race, and off we went, headlights bobbing in the dark. There were about 40 of us in this start group, with the shorter distances starting an hour later. It was a ton of fun starting in the dark, although some of the big hills in the first little bit seemed really crazy because you couldn't see the top and we were still bunched up enough that there wasn't a long line of lights going up and over to gauge. At about 3/4 of a mile we hit a marsh, but there was a small wooden bridge off to the side that took a moment to find in the dark. In the coolness of the morning, it was all iced over so more than one person, myself included, nearly took a tumble going up the ramp slipping around. I also noticed a few random snow flakes in my headlamp's glow along the way, which got me thinking this could be a chilly day.
As the group thinned out, we came up a short hill with markers heading to both the left and right. I remembered the RD saying we would come to this intersection and we should go right for the short loop. I called out to two guys about 20 metres ahead of me, and along with the 2 or 3 behind me, we figured this was indeed the turn, although the volunteer mentioned wasn't there. We made the right call because about 3 minutes later we came across the RD jogging down the trail to be at the corner and he confirmed we made the right choice. I found out as the day went on that the majority of people missed this corner. All I could think of was my experiences as a RD and people missing the intersections, even though you explained, described and did what you could to make them clear.
I ended up getting the short loop done in around 32 minutes and it was back onto the course for the three big loops. The trail on the north half of the course is about 5 metres wide and is much like the ski trails at Birds Hill Park, wide enough for the groomers to get in and make a nice track for cross country skiing. The big difference with BHP is that in the Murphy park, there are monster hills, and for about 5 1/2 miles it was a constant up and down. In the dark the biggest challenge was not being able to see some of the big rocks under all the fallen leaves on the downhills. So feeling fresh you still have to take it easy on the downhills as it could get sketchy pretty fast. Just before the first aid station I stopped for a quick pee and was left behind by the small pack I was running with, so began my day of pretty much running on my own.
The aid stations were small but well stocked. The guy setting up the first one asked me where in Canada I was from (wearing the maple leaf buff gave away my nationality I guess) and when I said Winnipeg, he immediately asked if I knew Dallas -- already the third person to ask me about him and I was barely 8 miles into the race! Thankfully Dallas is such a nice guy nobody passed on death threats or demands of money owed :-) After a while I was tempted to answer that question with "I'm from Winnipeg, and yes, I know Dallas". His chatterbox personality leaves an impression on people I guess.
Shortly after leaving this aid station (just had a quick shot of heed to see if I wanted to switch from my gatorade or not) the trail smoothed out and we crossed the road into the less hilly south end. The majority of this section was really rough dirt roads that were full of mud from all the rain in the past few days. The big hills were done for now, but it was still quite rolling, more than this flatlander was used to for sure. If you check out this link (
http://rxironman.blogspot.com/2009/11/surf-murph-50k-race-report.html
) you can see quite a few pictures of the south end of the course.
By this point the sun had come up and I did my first video snippet (link coming soon) to try and capture the nature of this run. This section was very runnable, or at least should have been had it not been so slick with mud. It was also quite exposed to the wind which was whipping around quite strongly, not something I really wanted on a cooler day.
It was around the 12-13 mile mark that two or three of the speedy folk doing the shorter races went whizzing by me, and I was making a decent pace at this point, averaging around 9:45 min/mile, even having a few km in the sub 9 range on the really flat dirt road sections. To make the loops work, the trail cut into the bush at a few points for some singletrack, about 4 sections altogether on the whole loop. The first one was just after the third aid station, which was where I caught up to and passed a couple other guys in the 50 miler. They were two of the ones that did the short loop with me earlier. We ended up running somewhat together until the first aid station of the second loop; we tended to jockey around a bit; I would be ahead of them, then would walk a hill as they ran past, but we always ended up together at the aid stations. It was on the long shallow climb to the fourth aid station that I passed the first of the 50 milers that had missed the short loop turn. So passing people that I was three miles ahead of was good on the psyche, the trick was to keep moving so that I wasn't passed myself!
As it turns out, I wasn't passed by anyone in the 50 miler for the rest of the race, but over the next lap I managed to keep picking off a few more and pulled ahead of them, usually having a short chat before pulling away.
One more single track cut into the bush and then it was across the road again to the hilly north half of the course for the last few miles back to the start/finish. These hills were nearly as bad as the first part of the course, but what they didn't have for elevation they made up for in steepness or length. Some were really long wavy climbs with false peaks and others were just steep. Two rather devious sections of bush-whacking singletrack in the last mile and half to the loop start. Just after descending a ridge, you turn into the bush and climb that ridge again but this time in some rather technical bush rather than the nice smooth dirt road. There was one boulder in the middle of the trail that was probably the size of an old microwave, but by the time I saw it on the last loop it had grown to be bigger than a vw beetle.
After cresting that ridge, it was down again on a dirt road, then a few corners and then back uphill on the way into the aid station for the end of the first leg, around 19.5 miles. I did a quick check in with Natalie on the blackberry, she was worried that it had taken me so long, my response was 'the hills are grinders!' and that it was not going to be an 8 hour run like I initially predicted. I filled up my hydration bladder, grabbed a few more gels for my stash and was off again after another graze at the aid station where I decided I would start taking the shots of coke just to keep my caffeine levels up :-)
I now got to see these hills in the daylight and was left shaking my head at how long and steep some of them were! I just kept walking up and doing my best to run as much as possible on the downhills without hitting one of the fist sized rocks hiding under the leaves. Other than some weird side stitches that kept popping up, this lap was pretty uneventful, I just ran it as best I could knowing that my lack of real training was going to kick me in the ass come the third lap. I did end up passing three or four more on this lap, one who was doing her first 50k and picked up her pace to ask me questions once she established that I had done this before. The summary of my advice to her was just don't stop moving forward and stop looking at your garmin pace. She had been obsessed with it and said she tried to stick with 30sec/mile slower than her marathon pace and ended up totally burnt out after the first loop and was ready to drop out, but kept plugging away. I saw her again when I was leaving the main aid station for my third lap and she was just finishing, had her whole cheering squad there. She wished me luck and thanked me for the chat miles ago. From this point until I finished, I never saw another runner; just the aid station volunteers.
The third lap was where grit, guts, determination and the ability to manage the suffering came into play. I'd done 35 miles in 7 hours at this point and knew what I had to deal with yet. I made the decision to essentially walk 90% of the nasty hilly section (down hills too) as I wanted to have something left in me to run in the last couple miles. I think it was the smart thing to do as I felt pretty decent by the time I made it to the smoother south section. By now the mud had been beaten down quite a bit too, so it was actually quite runnable and I was able to do actually run! Sure some of the hills had magically become too big to run by now, but quite a few of them were still easily ran. I did linger at the one aid station a bit longer than I should have, but they had some mashed potatoes there (still hot!) that I just had to eat. I also saw my first live animal on the run here, just before coming into the aid station a large mule deer popped out of the trees, looked down the trail at me, snorted, stared and just stood there. A shout got him snorting one more time before he took off into the trees. I kept hearing him for the next 10 minutes thrashing around in the bush, like he was cutting a tangent to where I was going.
After being re-invigorated by the mashed potatoes and a larger shot of coke, off I went to knock off the last 6 or 7 miles. My garmin had ran out of battery just before the aid station and I couldn't remember exactly how far it was. I figured it would be about 90-110 minutes to the finish. Overall, this last section felt not too bad, of course I was tired at this point, but I had some good running stretches before another hill would pop up and slow me down. The side stitches persisted as well, which for the most part, got to the point where they just pissed me off rather than make me stop. I did my best to run and breathe through them, just plugging away.
I had made careful note of the distance on the last nasty singletrack climb to the finish and predicted it would take me 16-18 minutes to do that last 1 1/4 miles. Somehow I managed to do it in 17 minutes and hit the finish line in 10:50:xx. I'm still waiting on the results, but I know quite a few dropped from the 50 miler and just did 50km, apparently a lot of them had missed the short loop turn and were just too beaten up mentally by the course to do another long loop and then muster the energy for even that 3 miles.
I would do this race again. As hard as it was, it was a great event, well organized, well supported, and put on by some really great people. Thanks to all of them for putting it on and for the volunteers being out there in the chilly wind keeping us running.
As soon as I finished, I trotted over to the car, grabbed my bag of dry clothes and went to change. Nothing like changing in an outhouse with a concrete floor with no where to sit down (except an open toilet...) when it is +1 C. Thankfully there were handicap grab bars in the outhouse to help keep me stable, as the legs were just a tad wobbly. I got that done with, went inside the ski chalet to sit by the fire, eat something and call Natalie. After feeling a bit warmer and having something other than a gel in my belly, I headed back to the hotel, after stopping for a latte at Starbucks. I also picked up some chips to snack on while I waited for my pizza to be delivered; a man needs to replenish his salt after sweating that much!
The rest of the trip was pretty uneventful, I ate lots of pizza, slept, woke up to eat more pizza, then finally woke up Sunday morning ready to drive home. Some short runs this week and all is good with the body, just one toenail that will fall off, but no blistering to speak of. Time to tackle a 100 miler again in the spring!
Thursday, October 29, 2009
Going Surfing
A somewhat impromptu decision to head south for a weekend and run 50 miles. Check out
surfthemurph.org
for race details.
More updates to come over the weekend as the race goes on.
Dwayne
Sent on the TELUS Mobility network with BlackBerry
Sunday, June 08, 2008
Update
Sorry for the delay everyone. I had no connection at the last station.

Dwayne made the difficult decision to drop out at 81.5 miles (21h27s). His spirit could have finished but his feet are in very bad condition. He is quite upset, but I have assured him that no one is disappointed in him. He made a smart decision.

I don't want to leave you on a sad note. There is a funny nugget that I'd like to share with you.

Once Dwayne hobbled back to the car, he wanted dry clothes. It's 3:30 am so it's pitch black in the forrest. Dwayne warns us about full-frontal nudity. He's in the process of putting on the first pant leg when a car drives up with headlights on in the opposite direction. I run up behind him and say "don't worry, they can't see you. I've got you covered." Then I look up and realize that Dwayne's been flashing a woman in a car he thought was empty! She got the Full Monty.

Dwayne was completely mortified and the woman was beside herself. He got those pants on in record time and tried to apologize to the woman who was trying NOT to make eye contact. I was laughing so hard that I cried.

I want to thank Pam for coming out with us on this adventure. Even though the goal was not accomplished, we all had a good time overall.

Thanks for reading all my messages, and thank you to those of you who responded with your encouraging notes.

-Natalie

Sent on the TELUS Mobility network with BlackBerry

Saturday, June 07, 2008
Another torrential downpour
I really wish I could be helping Dwayne right now. Instead I'm sitting dry and warm in the car, and feeling quite guilty about it. Pam went to stretch and didn't come back - I hope she's under the crew tent! This is crazy. I don't think I'm a fan of the state of Wisconsin and its crazy weather.
-Natalie
Sent on the TELUS Mobility network with BlackBerry
Still truckin' on...
Dwayne came back through Bluff and I've got Pam back with me for a bit. He was looking good, but his feet are sore and look totally gross. He's had some pretty bad blistering.
So now we've got some more waiting. Good night to those of you who have got to go to bed. I'll keep updating for you night owls though!
Ps: the firefly show is just amazing. One lady said it looked like runners lost in the bush. I thought it looked like Tinkerbell out of Peter Pan. Very cool.
-Natalie
Sent on the TELUS Mobility network with BlackBerry
Two Live Crew down to one
Well, Pam's left me to run in the woods with Dwayne. I'm paranoid that I won't be able to find the new aid stations in the dark without a navigator. I also don't have her to crunch the numbers and tell me when it's time to go watch for Dwayne. Seriously, Pam has been a Godsend on this trip.
Dwayne was very chipper at the last aid station. He's eating boiled salted potatoes like they're going out of style. He's peeing more too. Yay!
Wish me luck folks. It's dark and lonely out here in the forrest.
-Natalie
Sent on the TELUS Mobility network with BlackBerry
More re: last report
What I had forgotten to put in my last report is that at 12 hours of running, Dwayne remembered to tell me that he hadn't pee'd since 2 hours out. Um, hello? It's been 10 hours sice you went and you forgot to tell me? Holy crap.
Right now, Pam and I are sitting in itermittent rain. We're calling it the Mike Booth Rain Shower. It rains for 75 seconds, it stops for 75 seconds. 75 on, 75 off. That's right Mike! Your ears are burning...
Sent on the TELUS Mobility network with BlackBerry
Doing better
The rain has stopped and it's cooler out. Dwayne has stopped vomiting and he even pee'd! I know this may sound like TMI to some of you, but when it comes to ultra-fuelling it's crucially important to be aware of these things.
Pam and I will meet Dwayne at the 100k mark next and that's when I start my solo-crewing-in-the-dark. I'm very aprehensive so wish me luck.
-Natalie

Sent on the TELUS Mobility network with BlackBerry
This race sucks
That's my opinion, but hey, I'm the one sending the updates, right?
Dwayne was almost an hour behind schedule at the last station. He puked a couple of times, which he doesn't usually do on ultras. We think he's over-hydrated so he's dropped his water bottle and is drinking just Heed.
He's decided to keep going, but it has started to pour. There's also been some tornado alarms going off. I am NOT having a good time. I'm so glad that Pam is here to help me out - I'd be a basket case otherwise.
Stay tuned folks, it's going to be a very long night.
-Natalie
Sent on the TELUS Mobility network with BlackBerry
The heat is bad
We saw Dwayne through Ice Breaker. We're back waiting for him at Emma Carlin. The section he's passing right now is meadow/bog with pretty much no trees. He ate some salted boiled potatoes at the last station, and I hope they sit well in his tummy.
Next update won't be for a while; it's a long way from Ice Breaker to Emma Carlin.
-Natalie
Sent on the TELUS Mobility network with BlackBerry
50k turn around
This race is 2 out and backs of different lengths. Dwayne just passed the turn-around for the first part. He's hot!
Mr. Grumpy isn't so grumpy this time. He did complain that the pretzel sticks tasted like shit and that the water was piss-warm, but he's just bothered by the heat. His pace is in the 12-minute miles, and I know he wants to be faster than that. It's just coming on 12:30pm here so I hope the evening will bring some cool breezes.
We're back at Ice Breaker station - Dwayne should be back this way in about an hour and a half.
-Natalie
Sent on the TELUS Mobility network with BlackBerry
It's hot!
Runners are coming through Ice Age looking down - it's uber-hot and humid right now, and it's still morning. Pam and I are skipping the next stop because it's only 3 miles away.
-Natalie
Sent on the TELUS Mobility network with BlackBerry
Dwayne was looking good through Emma Carlin. We're now waiting for him at Ice Age. Expect fewer updates because the roaming is sucking my Blackberry dry.
-Natalie
Sent on the TELUS Mobility network with BlackBerry
Well that was underwhelming!
Pam and I schlepped all the gear from the first aid station parking lot to the crew area. We saw the first men run through, then the first women. We were glad Dwayne was not in that pack, since it would mean that he started out too fast.
Finally we spotted Dwayne coming through the station tent... We had the gear bag and the cooler at the ready. Dwayne just waived us off and that was that. Ha! He was through at 1:11:53 (9:42 pace).
So now we've driven to Emma Carlin crew stop. It's getting warm so we're ready with ice and beverage. This time we've got a picnic table right outside the car :-)
-Natalie
Sent on the TELUS Mobility network with BlackBerry
Off to the races!
Dwayne is off and running. I told him to make sure not to sprint off with the 100k runners :-)
The weather is nice - not too hot with almost no wind. The forecast is not so rosy, but we'll have to deal with the weather as it comes.
The first crew-accessible aid station is at 7.5 miles so off we go!
Sent on the TELUS Mobility network with BlackBerry
Friday, June 06, 2008
8 Hours to Go
Thanks so far for Natalie providing updates on the trip so far. In 8 hours, 10 minutes I will begin on a day long (or so) journey that has taken months, if not years of prep. I'm here in Wisconsin with my aptly named "2 Live Crew" Natalie & Pam who will fuel, motivate and run with me tomorrow.

Off to bed now after a quick shower, the drinks are mixed, the gels ready and the clothes laid out.

Next post from me will be in a day or so, but watch for tons of updates from Natalie and Pam.

D.

We have arrived
It is so windy in Wisconsin! And I thought Winnipeg was bad.

Our hotel in Fort Atkinson is quite nice. Free wireless Internet, yeah! Everywhere in the USA seems to have free wireless, watch for the photo documentary of "free wireless Internet" to come.

We're driving to La Grange as I type to pickup the race kit and visit the race expo (ha!) then out to do a short run on the race course. After that, dinner!

Breakfast in Minneapolis was a Désastre Gastronomique extraordinaire with IHOP as the breakfast place of choice. I was horrified by the menu but tried not to think about the likely un-veganness of my wheat-and-nut pancakes without butter. Pam thoroughly enjoyed her carrot cake pancakes though!! Needless to say I hope dinner is better than breakfast.

Stay tuned!

-Natalie


Sent on the TELUS Mobility network with BlackBerry

Thursday, June 05, 2008
We made it to Minneapolis
... Now we have to find a vegan-friendly eatery that's open late.
-Natalie
Sent on the TELUS Mobility network with BlackBerry
White knuckles
We're driving trough a Mother of a rain storm. So scarry. Can't see very far ahead of us on the highway, and cars are still moving at incredibly high speeds. We need your good vibes!
-Natalie

Sent on the TELUS Mobility network with BlackBerry
First post from the 100 miler trip!
We just passed the border! It was sooo funny.
The guard checked the trunk of the 2 cars ahead of us. I was expecting her to check ours too. This wouldn't be a problem except that there's a lot in our trunk and could take a while.
Anyway, we pull up and she asks for ID and the usual "where are you going and what are you doing there?" questions. Dwayne said we were going to Whitewater, WI for him to run a race. "A marathon?" she asked. "A little longer than that", said Dwayne. "A triathlon?", she asked. "More like a 100 mile race" says Dwayne. "REALLY?" she asks with huge eyes and a bit of a grin. "How long does that take? You do it all at once with no breaks?" It was hilarious. No trunk search. Just a "good luck" and a bit of a head shake.
Cheers everyone, stay tuned.
Sent on the TELUS Mobility network with BlackBerry
Friday, April 11, 2008
Ok, so I slacked off...
Yes, I know, I had planned on updating this more frequently, but yikes, life gets in the way sometimes.
First, an update. I'm not doing McNaughton as my first 100 miler. I just couldn't get into a training groove soon enough to make it feasible. The winter this year was just so brutal that I really lost my motivation to spend 4 to 6 hours out in -40 weather training. Instead, I'm going to do Kettle Moraine on 7 June.
In the past 5 or 6 weeks, I've had some stellar mileage (for me at least) along with great consistency. I've ran every day since 15 January and so far, my body is liking it.
With 56 days to go, I've got some long efforts to get in yet, having only done a couple 30+ mile runs so far, but the schedule has been tweaked and I should be getting about 60+ miles a week from now until the end of May.
This time, I'll try harder to keep the blog up to date.
D.
Thursday, January 03, 2008
The Nike Free and Barefoot Experiment
As part of my training this winter I'm trying to do regular runs in my Nike Frees (v5) and once the snow melts, go truly barefoot too.
So far I've done a few short (2 miles and 2.25 miles) in the Frees and other than a slight feel of 'working' some un-used muscles I feel great. I'm on my second pair of Frees, the first pair saw some runs, but nothing consistent or for any great distance. I broke the second pair in while doddling around Vegas for the weekend of the marathon and have now made them part of the regular shoe rotation.
From everything I've read, a guy with feet like mine has nothing to lose and everything to gain from this approach. We'll see how everything goes.
D.
Tuesday, January 01, 2008
2008 has began!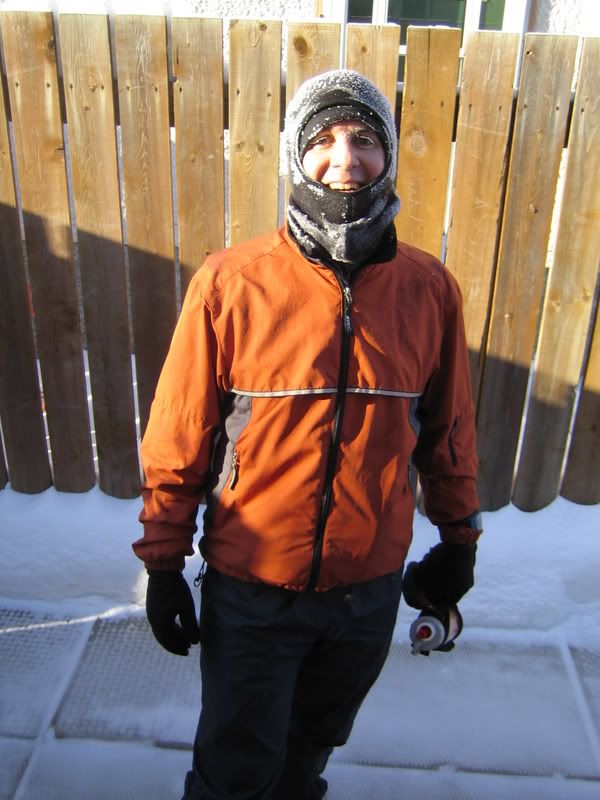 As has been my tradition for the last 5 years, I did a run today of at least 10 miles; a great way to start the new year. Natalie snapped a quick shot of me when I got home looking all frosty! It was about -29 celcius with the wind chill, so it was pretty damn cold.
Once again, in the tradition of new year's resolutions, I'm going to try and keep this blog more up to date. It's been a while since I've regularly updated, but I guess I've had not much to say? Since the Blackfoot I've done a 10 miler, a couple half marathons, two marathons (setting a new PB by nearly six minutes!) and tackled the Mantario Marathon - a two day trail run that was a total blast; albeit a painful one as I ended up with infected blisters :-( Those blisters also killed my running streak, I had ran 48 days straight for at least 30 minutes (included two half marathons in there), but the blisters made it nearly impossible to walk, let alone run.
2008 will see me tackle the 100 mile distance! The plan is to do at least two, if not three races of this distance this year.
That's it for now,
D.
Sunday, June 03, 2007
Race Day
Finished in 11:05:xx for 12th place overall. This is a 23 minute pb on the harder course direction, so I'm super happy with it.
The short version: (run times below, pit times where 2 – 4 minutes between laps.)
Lap 1: 2:22:55 – felt amazing the entire time

Lap 2: 2:31:36 – still felt really good

Lap 3: 3:02:42 – my stomach rebelled and had me in an outhouse for a long time

Lap 4: 2:59:05 – Felt much better and managed to get the groove going again, but the fatigue was setting in and the heat was getting to me.
The long version:
At the start, Kevin, Krista and I got together for a photo, our faces looked nervous with a touch of WTF are we doing? It was a huge crowd compared to last year, and really encouraging to see that many people out for the event.

The first lap went really well and I was in a good groove, power walking the hills and keeping the pace solid. Chatted with a fellow that is from Peace River, which is where I went to high school with his cousin – small world or what? I had a planned stop at an outhouse about 3 miles before the end of the first loop and everything was feeling just dandy. Natalie & Mr. C-lab helped me out with a heavy slathering of body glide on my back from a hot spot I was getting and it was time to go again.


Lap two started with a bit of a scare, as a chunk of power bar got stuck in my throat and I nearly choked. One of the guys coming up behind me stopped to make sure I was OK. Once I cleared my throat, I caught up to him and we ended up running together for about half of the second loop. He dropped back and we wished each other well. I finished lap two in less time than I had done loop one last year, so I knew I was on pace to set a pb as long as I could hold everything together. Near the end of this lap I hit the maniac aid station, you guys rock!

Lap three had a very unpleasant start. At the pit stop I had guzzled a bottle of ensure, something I had trained with and had no problems with. But for whatever reason, it did not agree with me yesterday. Within a mile of leaving the aid station I was reduced to a shuffling mess as my stomach was going crazy. I was on the verge of puking, had a couple of 'tasty' belches that grossed out a pair of 50 milers that caught up to me as I was stumbling along. I finally got to an outhouse that I took refuge in for about 10 minutes. It was nasty. It took another couple miles after that to get my body back to a relative 'normal' state (as if there is a normal state in running this far). When I hit central alleyway I was totally back into my groove and I managed to pass about 8 or 9 people, including the pair of 50 mile runners from before that gave me a big cheer as I motored past them. When I got to the maniac aid station, Dennis pointed out the big water tank that I soaked my head and hat under, what a feeling to cool off like that! Thanks Dennis! My first shot of coke for the day, and off I went to get the lap from h-e-double hockey sticks over with. I felt a bit defeated when I saw the slip in my split times, but I knew that the stomach troubles where behind me. I did take a couple chunks of ginger to be safe, thanks for giving me that Natalie, super crew!

Lap 4 was where the personal race began. I had set a goal of going sub-11 and I knew that I had to push hard to get there. I had been pretty much with another fellow (Wade) since 1/3 of the way into the third lap and we were discussing our strategy to break 11 hours as we were leaving the first aid station on lap 4. We both had figured out that we needed to get to the top of this one hill by 10:30 race time to break 11:00. I hit a bit of a low point energy wise half way up one hill we were walking together and told him to go kick 11 in the butt and wished him well. About a mile later I saw this woman running along with a little voodoo doll hanging from a noose from her camelback. I thought, hey, that must be Cheryl ☺ We chatted for a bit, she was, as always, 100% optimistic even though she was hurting. A hug and off I went. It was at this point in the race when I started with the internal banter of self-butt-kicking. In doing the math, I knew I had to keep sub 11:00 minute miles to break 11 hours, so I kept telling myself that to stop being a lazy a$$ and keep pushing, you can do 10 minute miles without event pushing that hard, just keep pushing. It nearly paid off. I hit the landmark hill at 10:35 race time and finished at 11:05. I talked to Wade afterwards, ironically he hit the hill at 10:32 and finished at 11:02, not bad for late in the race mental exercises we told each other!

Again, a huge shout out to all of you who came out to volunteer, watch or run. And of course, the biggest thank you to my partner in stupidity, Krista for her hospitality. Last but not least, the best support crew, both on race day and during training, Natalie for all her efforts in getting me through this adventure once again.
Saturday, May 26, 2007
Krista is in!
Congratulations Maniacs!

Over and out. Photos to come.

Cheryl
Is in. Way to tough it out!

Update
Dwayne came in about 5 minutes ago, and Holly just got in too. Yay Maniacs!

Stuart is in!
Way to go my friend on your first 50k.

Where we're at
8:49 was first male, 9:15 was first female. Incredible!

Kevin is not going back out. His legs seized up. Congratulations on a very hard effort Kevin! And congrats on running 75k.

Tracy is in!
Congrats on the 25k.

More 25k
Jill and Karen just finished. I see Kevin putting shoes on, but I still don't know if he's going out for his last loop.

Krista
She's just left for her last loop. Go Krista!

Kevin update
He's in from the third loop. I can't tell if he's doing good or bad. Stay tuned.

Fast and furious!
Adam is in too, looking great!

First of our 25k Maniacs in!
Jocelyn is in. Congratulations!

Found him!
I took a little hike up the trail to go look for Dwayne. I was worried. But I found him. Apparently the Ensure he took at the last pit stop didn't sit particularly well. But he's off on his last loop.

Cheryl
Is through home base, heading for her second loop. She says it's rough and her legs are wrecked. Go Cheryl!

First of our 50 km through
Stuart just came through home base. Time for his second loop!

Krista update
Krista was in and out in a flash. New shoes and socks, some food and beverage, ready to roll.

Kevin
Has just come in after his second loop. He's looking great! Off he goes for the third loop!

Dwayne
He is through after his second loop. We got to see his octagon nip guards; very hot ;-).

50 km runners are off...
Congratulations to all Maniacs in the group!

Krista update
In and out, looking great!

Kevin update
He's in. Doing a quick change before he goes back out.

Dwayne update
He was in and out in a flash. Looking good!

50 milers are off!
Bill, wherever you are in the pack, good luck!

They're off!
100 km runners have left the staging area. My fingers are frozen. I saw Krista, Dwayne and Kevin. I still haven't met Terry but I assume he was out there.

Because this race is the Canadian 100k championship this year, there's over double the runners. It's neat to see so many ultra-freaks all together in the same place :-)

Stau tuned!

Thursday, May 24, 2007
Test
Hi folks, if this works, then this is where you will be able to get updates on the Blackfoot Maniacs. :-).

Saturday, May 05, 2007
An ultra double-double
Today was the first half of my last double-double weekend. And no, there was no Tim Horton's involved...
This morning was just less than 21 miles ran with the marathon clinic group I'm leading. At about mile 17 we did one last pit stop to refill water and some hit the bathroom. Of all the places we stopped, it was a Robin's Donuts. Earlier in the run, I was joking that maybe if we stopped there, I'd get a donut to keep me going. As we walked in the door, I dug into my pouch to find a loonie so I could buy some robin's eggs. A moment later I had a bag with a dozen eggs in my hand. I scarfed down three or four and shared them with the group. Much better than another shot of gel at that point in the run!
Just before dinner I did another easy run, 6 1/2 miles in under an hour to bring the daily total to nearly 5 hours of running.
Now it's time to feed the very hungry beast living in my belly. Let's just hope tomorrow's runs go as well as today!
D.
Friday, May 04, 2007
The Final Push
Well, three weeks from today I'll be in Edmonton, getting ready to race the next day. How quickly the time passes!
I've got about 10 hours of running lined up for this weekend as my last really big training effort. So far, all the little aches and pains that seemed to have been lingering from those earlier injuries seemed to have faded to the past.
My biggest concern at this point is the blistering. Last weekend I ran a half marathon (setting a new PR in the process 1:36:24) and I developed some crazy blisters on the balls of both feet. 5 days later, one of them is still tender enough that my foot bled during my run last night. Good thing I don't wear white socks anymore :-) It was those blisters that stopped me in my tracks when trying to continue my run on the hill later that morning. My feet just hurt too much.
Interestingly enough, when I run on the trails, my feet are fine. It seems to be the roads that mash them up. I'm not sure what the root cause is, but it's pretty frustrating. Bodyglide only goes so far in keeping them at bay so I must do some more research on other preventative techniques.
Now is the time to start making my packing list for the trip. Surprisingly, I didn't forget anything last year. Now if I can just find that list, I'll be golden.
The best part of the weekend is knowing that Natalie is able to make it! For a while we weren't sure as her work commitments might have kept her away. A big plus is that she'll be able to post to the blog from her blackberry so you, the caring fans, can find out how things are going on the trail.
The social side of the weekend is shaping up to be huge too, it will be good to meet some of the virtual maniacs coming from afar.
D.
Monday, April 23, 2007
Finally, a big mile weekend!
With the recent bout of injuries, I've never been so happy to spend 9 hours running on a weekend :-)
With 33 days to go until the Blackfoot, there is something quite encouraging about racking up the miles; 24 on Saturday and 29 on Sunday and still feel good on Monday. Other than a minor blister or two, I feel pretty darn good today. In fact, if my stomach settles down, I'll probably go for an easy hour or so later this evening just to move my body.
Saturday's run was pretty uneventful. I ran with the marathon clinic I'm leading, we did around 20 miles in 3:15. Prior to that, I ran to the starting point to get a few miles in at a slightly quicker pace.
Sunday had some interesting moments. I went up to Bird's Hill Park to run the trails. I was going to meet my friend Cheryl and run with her for a bit and then continue on for much longer on my own. I got there early enough to get just over a mile onto the trail when my phone rang, she was there. So I doubled back and we set off again. We ended up doing about 15k together; which was probably good for me because I did these earlier miles at a slower pace than I normally do. Once we found another trail head, off I went with the notion that I'd most likely see Cheryl once or twice depending on how we each chose to do the various short loops to make up our miles for the day. So far, the trails were in amazing condition, mostly dry with just some soft muddy spots and the odd horse dung mess.
As it turns out, I missed a turn and had to double back so I met her again just as she was coming to the corner I missed, so we commiserated over the muck we finally discovered a mile or two back and off we went on the right trail. Within a few hundred metres, we came across more water and mud. At first, we did some

bushwacking

to try and stay dry; but after the first few initial wet foot moments, it was a mutual decision to just go for broke and plunge through the water and mud.
Even though it is near the end of April and the sun has been shining quite nicely for a few weeks, this water was COLD! We even crunched through some ice at one point! After a mile of this, we finally found dry ground! Our shoes were soaked, Cheryl actually wrung out her socks. As we once again got going, I told her that if I came across more slop like that I'd turn around and come back so we could do it together. She ever so sweetly said "I don't want to see you again!"
The rest of that trail loop was pretty much dry which was good as it gave my feet a chance to dry and warm up. Getting back to the parking lot, I changed socks and headed back out onto the trails. The rest of the run was great, even managed to knock of the last few miles at a pretty fast pace without feeling like I was going to puke.
My fuel for these runs was all home made. From the book "Thrive Diet" I made a batch of gel and an 'energy pudding' that kept me going. Now neither of these look terribly appetizing, but they taste great and kept me going. So I'll be experimenting with them some more in the upcoming weeks.
That's it for now,
D.
Sunday, April 15, 2007
And I'm Back!
Well, it's been a spring of frustration. Injuries suck; they suck bad. First, it was my IT band that started acting up, causing some real pain in my knee. Just as I managed to get it under control, my calf starts doing some nasty stuff. So in the last five weeks it feels like I've done almost no running.
This weekend was when it all started to change and I felt bold enough to actually proclaim "I'm Back Baby!"

ala

George in Seinfeld. Now I hope by uttering this I haven't jinxed myself :-)
The run that convinced me that I was well back on track seems so short in the grand scheme of things, but it was the intensity that sold me. I did just under 15 miles in just under 2 hours, an average pace of 8:04 with the last half approaching threshold pace. It was a liberating run. It was the run that I needed to get out of the Blackfoot panic funk I've been in for the last 3 or 4 weeks.
I talked to my coach and we figured out that I'll do a shorter than normal taper this time around, probably only 2 weeks instead of 3 or 4 that seems to be the conventional wisdom. There's going to be some really good quality runs coming in the next few weeks, trying to find that level where I don't fall into the trap of over-training.
Now that I don't feel like I'm faking the running, I'll try to keep the blog more up to date as well. I know there's a couple regular fans who read my ramblings ;-)
D.
Tuesday, February 13, 2007
Training in the cold
I can't remember when it was that I ran outside with less than three layers on my torso, or just a simple hat. It has been really cold here the last month or so. In fact, CBC reported that it was colder here in Winnipeg (-35 c) than it was in the Antarctic (-32) yesterday. OK, granted it is summer down there, but, still!
What I do enjoy, however, is the looks & comments I get from the downtown crowd I pass as I start my runs. Last Sunday, at about 8:55 am I passed this pair that smelled like they were just coming home from a late night of beer & weed and they had to shout out the obligatory "Run Forrest Run!" as they looked at me like I was nuts. Maybe I am, but I enjoy it. And besides, I wasn't the only one. I met up with my friend Jill and off we went for two hours of loops on the frozen river in the sun.
There is something about going out for a run when it is minus stupid and the sun is shining. It's one of those "I feel alive" moments. Then you realize that if you fell off into the wasteland and got stuck, you'd die in your spandex suit. Not a photo MEC would want in their catalogue :-)
The forecast calls for a high of -9 and sunny for this coming Saturday! I'm sure it will feel wonderful to be out there for a few hours compared to what it's been like lately. Maybe my gatorade won't freeze in 45 minutes and I won't break my teeth on the chunks of powerbar!
Who knows how long the cold spell will last, but with two events planned in the next month, the aptly named Hypothermic Half and the Polar Bear Run, I've got no choice but to suck it up and run. And so I shall.

D.